Micro & Macro
CLIMATE & MICROCLIMATE: UNDERSTANDING MICRO & MACRO
ELEMENT: Earth. Water.
Arguably the most influential variable of terroir anywhere is microclimate. But to understand the micro we have to know about the macro.
Grenada has a most regular climate. At 12 degrees latitude, 720 nautical miles north of the equator, below the Tropic of Cancer, Grenada is a hothouse of steady solar radiation, high temperatures and humidity. A consistent 12 hours of daily sunlight, ranging between 11 ½  hours at the winter Solstice and 12 ¾ hours at midsummer, makes for a very long growing season.
The year is not quartered into seasons of spring, summer, autumn and winter as in the higher latitudes; it is split in half by moisture. The dry months are from January to June, whilst the intently humid rainy season falls between July to December. At least it used to. Recently, these once reliable-as-clockwork dry/wet season boundaries have become less distinct, and there are now extended dry interludes in the wet with correspondingly sharp downpours in the dry.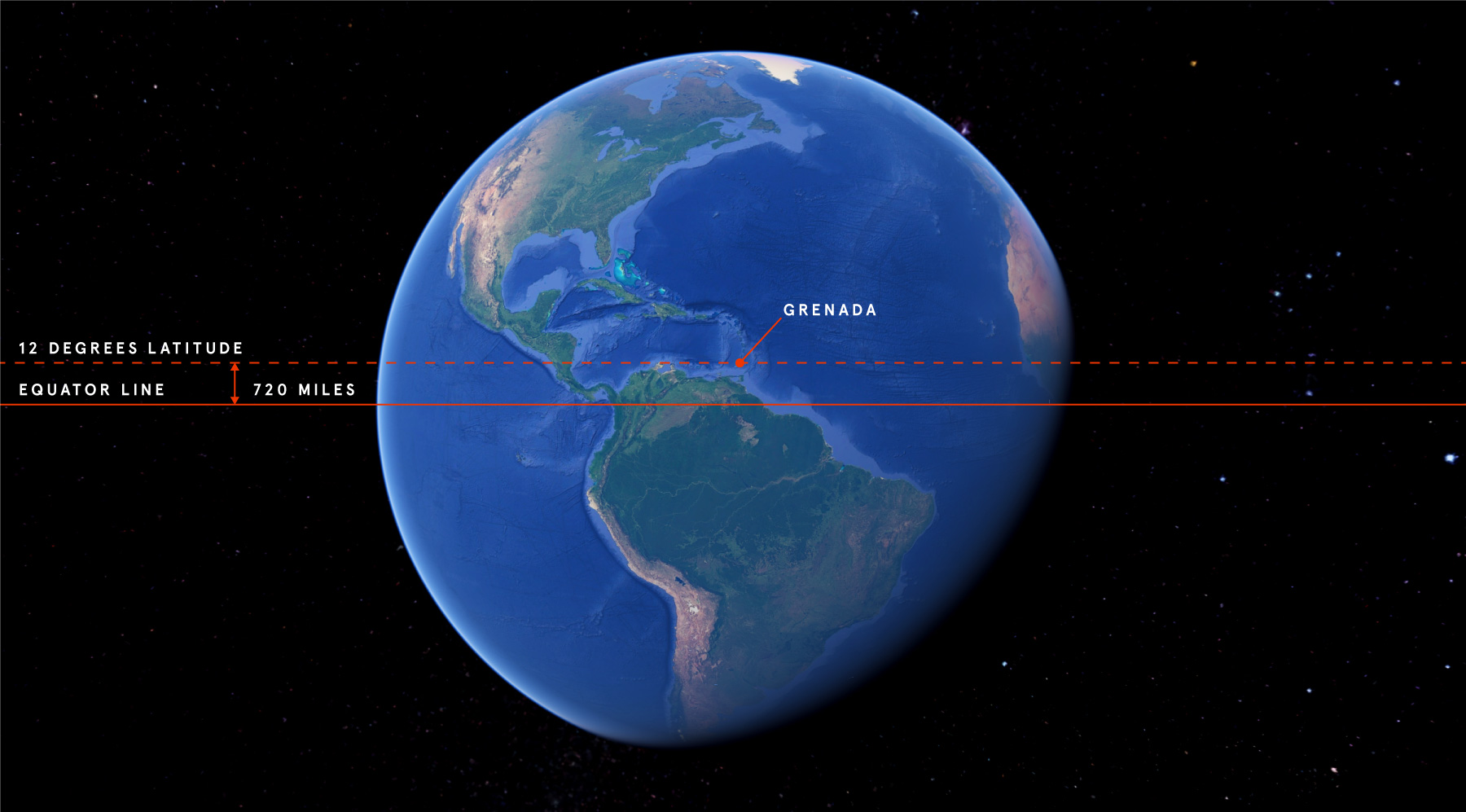 The north-easterly trade winds prevail, altering in intensity according to the season: weakest and variable in the wet, leading to oppressive humidity; while strong and consistent in the dry, providing cooling relief.
Despite being nestled to the south of the Atlantic's hurricane belt, Grenada can be susceptible to the devastating power of hurricanes every quarter of a century – most notably Hurricane Ivan in September 2004 – and more frequent tropical storms.
The Grenadian climate is highly conducive to cane growth. The temperature is a remarkably constant 30 degrees, 365 days a year, with the nightly drop being but three or four degrees. Optimal plant development accelerated by heavy, wet season tropical rains, and sugar concentrated by the equatorial sun.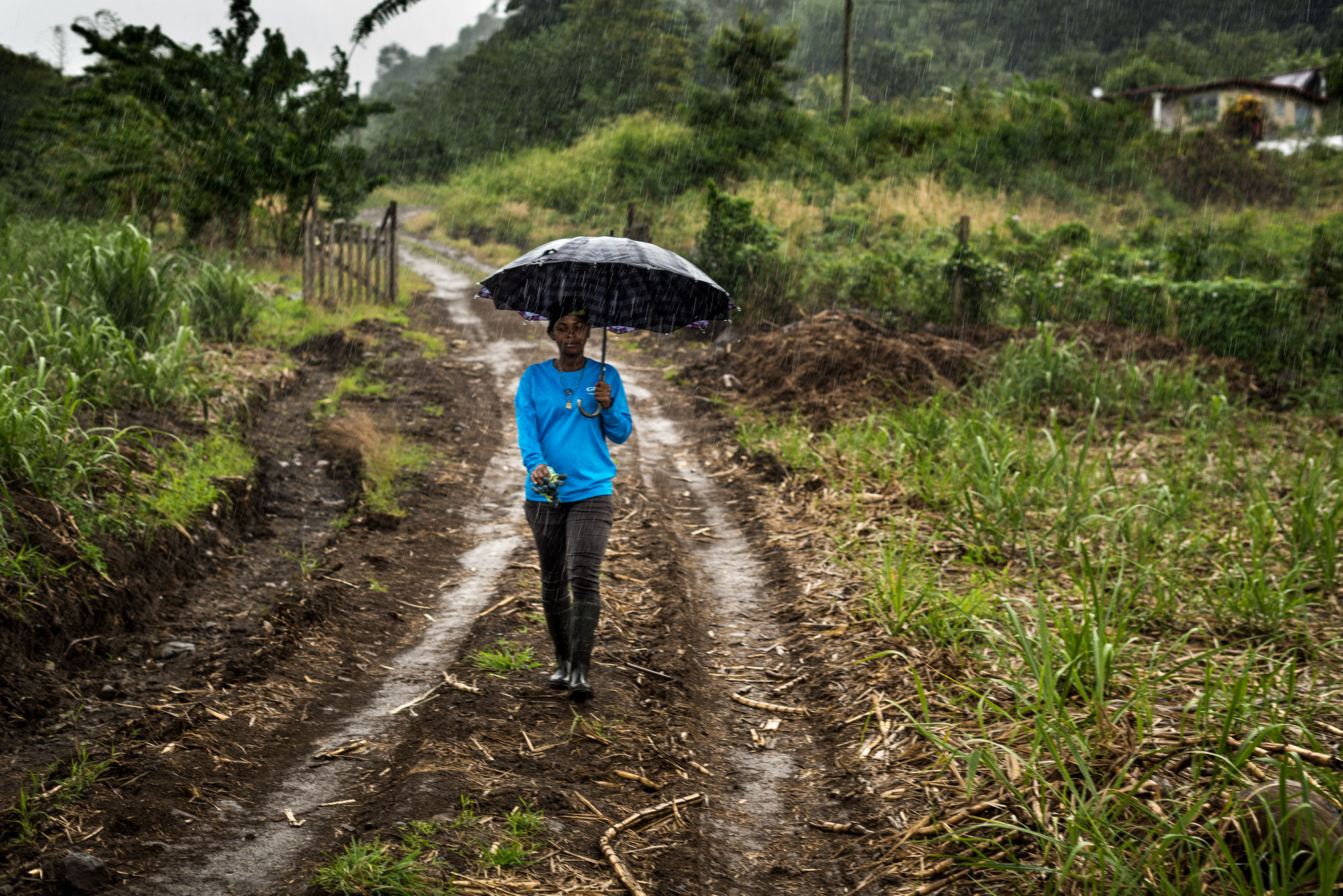 The rainfall is directly related to altitude with the higher reaches getting the most, the coastal north east the least. Short, severe tropical storms can quickly turn roads into rivers, good drainage is essential to deal with these deluges
Yet within the island itself are a surprising array of microclimates, each offering another layer to the story of the environment: highly localised variances in sunlight, temperature and evaporation.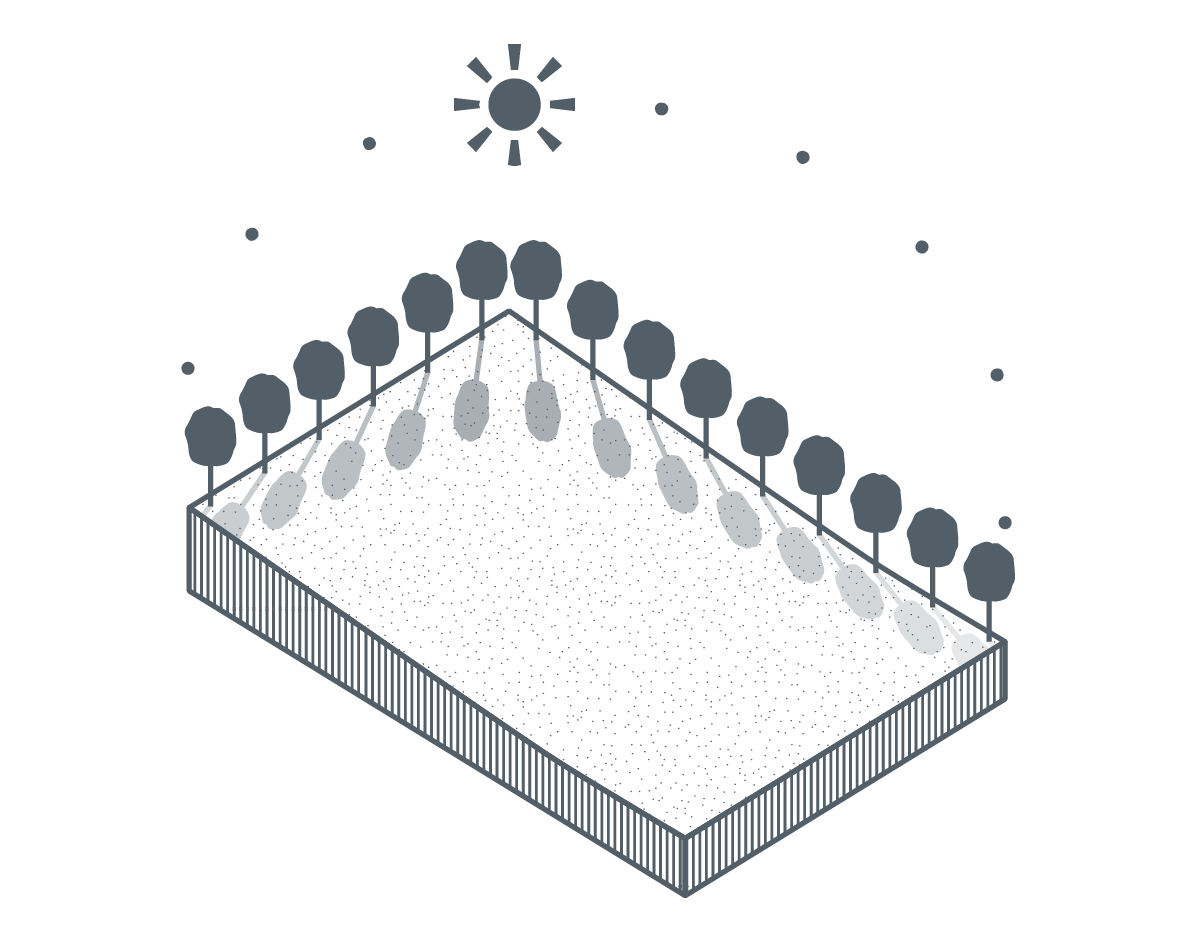 HOPE (DENSELY WOODED BORDERS)
Turn a corner on any one farm and another variable in temperature is revealed: densely wooded borders providing wind breaks, a grove of trees shade from the relentless sun.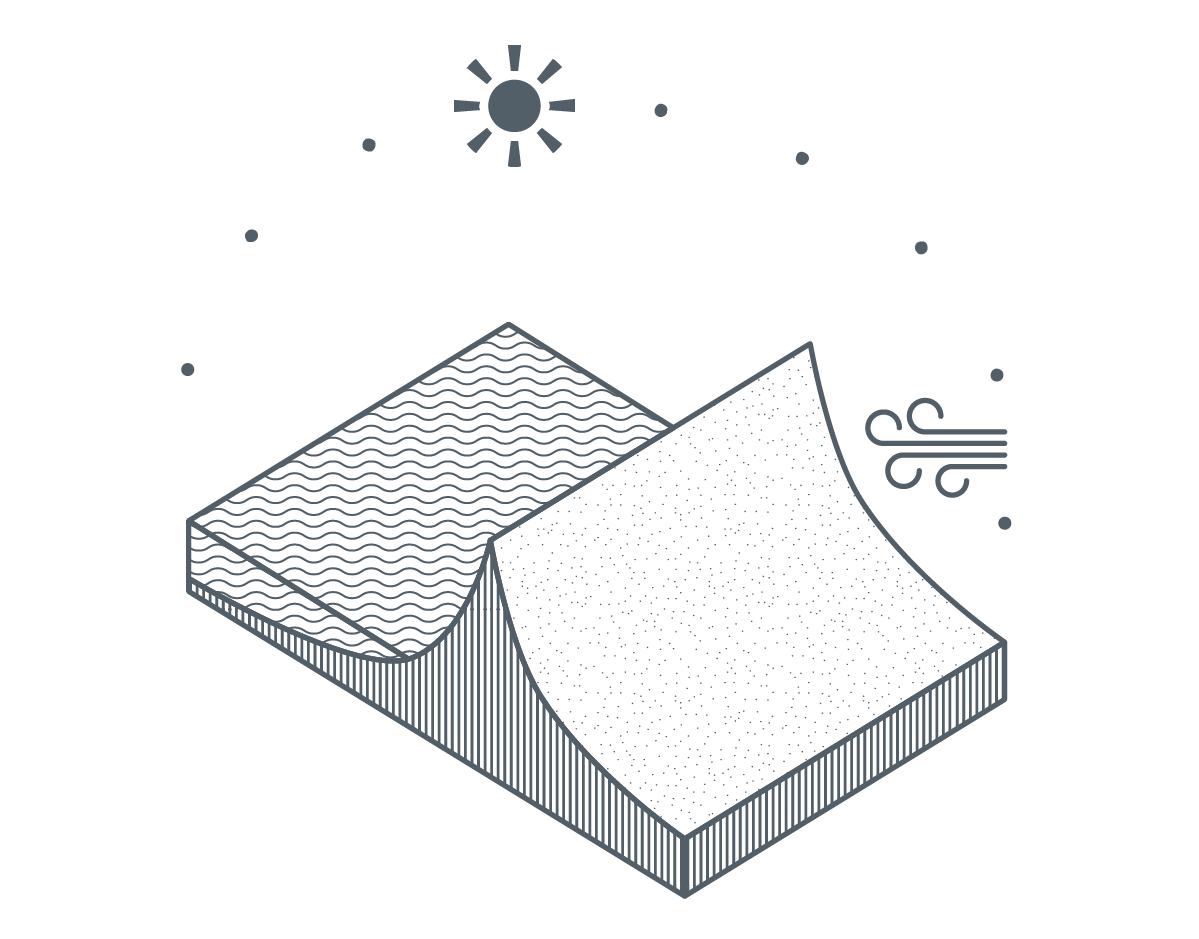 LAKE ANTOINE (SALT-LADEN TRADE WINDS)
Differences in climate can most radically seen in sites such as Lake Antoine, the volcanic crater lake, where sugar cane must endure the buffeting of the salt-laden trade winds. It is a stark contrast to other sites, many of which completely enveloped further inland by the perfectly still air of woodland.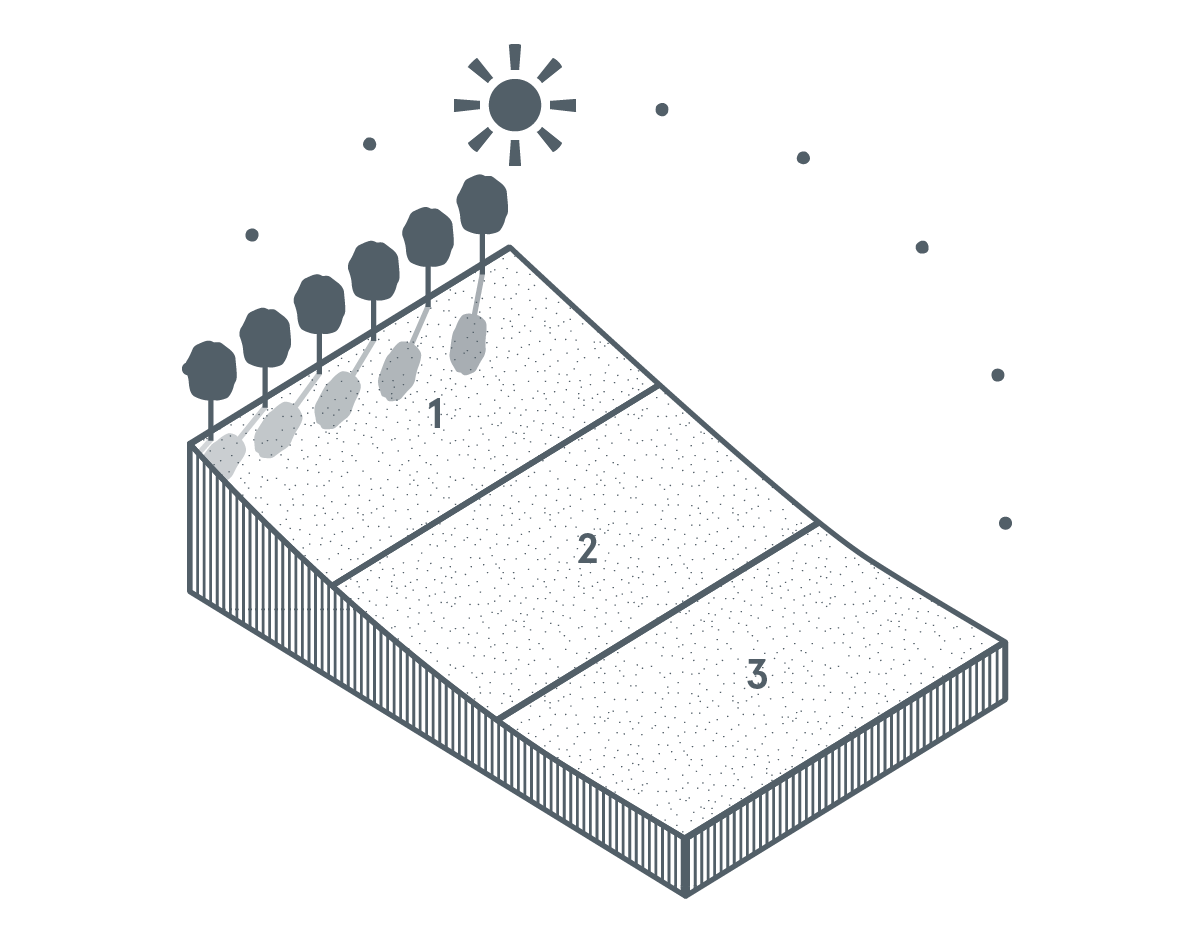 But perhaps most curious for us is the 'bowl of terroirs' at New Bacolet, where not only have we planted multiple varieties of cane to grow across multiple soil types, but the shelter and temperature differences within this one small plot can be felt merely by walking from one end to the other.