Single Cane Rum
TERROIR-DERIVED SINGLE CANE RUM
ELEMENT: Spirit. Wood.
Our rum will be a superior terroir-driven single cane rum – a complex and compelling spirit for rum connoisseurs, single malt and fine wine drinkers to enjoy and discuss. The spirit is milled and distilled, matured and bottled on Grenada. It uses raw materials grown entirely on the island, and with no added sugar, flavourings or colouring.
One Distillery
A single rum means it is distilled in one distillery, not a blend of spirits from multiple producers. Made using only fresh juice, it sits in the tradition of great rhum agricoles. But what sets it apart is that we are using premium sugarcane – clean, disease-resistant varieties – not just from one cane field, but grown across the many unique terroirs of Grenada.
Cane from each parcel of land is milled, fermented and distilled separately, with complete traceability of origin and transparency of process from field to barrel. Each terroir, treated with respect using state of the art equipment, enables us to capture the individual and subtlety different flavours of Grenada in spirit. Distinct distillates will then be matured on the island in premium oak barrels within our bespoke warehouse facility.
Bottled in isolation, each terroir or farm will be the basis of an exceptional rum, having used premium ingredients and the latest equipment; each will speak of a distinct location within Grenada.
But when brought together, these numerous flavours derived from separate parcels of land will layer on top of each other, creating the most compelling rum the world has ever seen.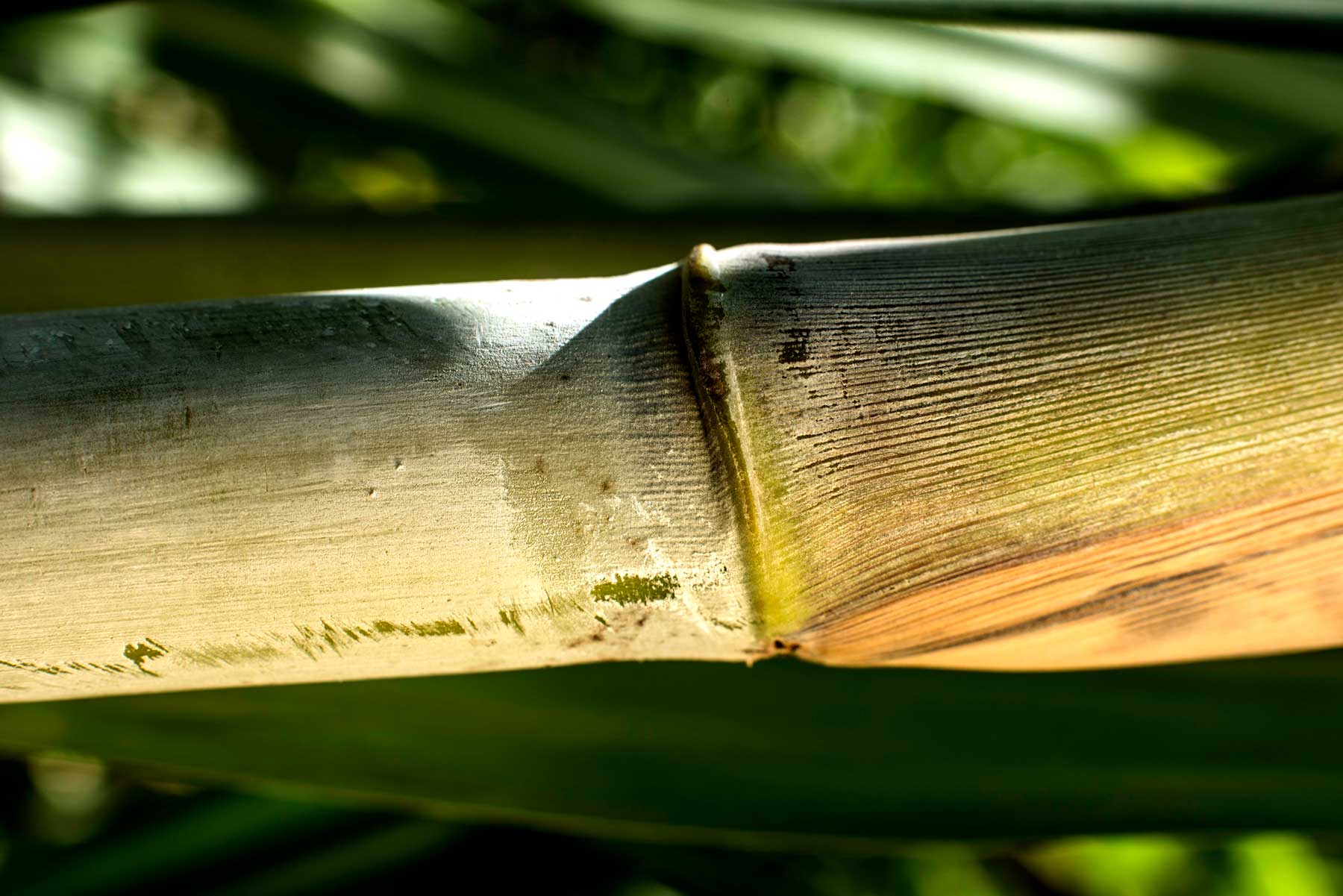 Cane not Molasses
Molasses is a waste by-product of manufacturing sugar – it is mass produced and ubiquitous in the rum industry. If everyone gets their raw materials from the same place, in the same format, where is the provenance and individuality?

More specifically, molasses being a generic, uniform product is unable to give us the individuality of expression that we really need in order to create a truly compelling rum. Molasses cannot give us terroir.
PROVENANCE
The provenance of our sugar cane is, therefore, key to our operation. We have worked closely with CaneCo, our agricultural services partner, for a number of years. Together we have propagated the most ideal cane varieties from tissue culture to embryos to seedlings from the cleanest plant material possible, through to establishing mature cane farms in a number of unique locations and microclimates across Grenada.
Of equal importance is the ability to demonstrate our provenance and show our respect of individuality during the entire distillation process. We have introduced a pioneering new track-and-trace system that provides us not only with the evidence of provenance, but gives us full visibility at every stage of the process, from milling to fermentation, and distillation to maturation. In this way, we can demonstrate each individual variety of cane and the terroir on which it grows will speak for itself.
Distillation
To create the best spirit it is essential that we use only the freshest sugar cane juice possible. It is vital that plants make it from field to milling within two hours of being harvested. To enable this we have shipped in new cane thumpers, bespoke trailers and laid down safe road surfaces, in order to facilitate the delivery of premium cane. That cane arrives at the distillery's state-of-the-art mill, which has been engineered in Brazil to our precise specifications. The fresh sugar cane juice is then extracted, before being fermented in our horizontal fermenters, and distilled via our double-retort copper pot and bespoke column stills, which were manufactured at the famous Forsyths in Scotland.
Maturation
Our spirit will be matured in premium oak casks, racked farm by farm, terroir by terroir, in our bespoke on-site warehouse facility.
With specially designed ventilation, our casks will breath in and absorb the salt-laden trade winds from the Atlantic, with the strong prevailing breeze subtly influencing the spirit as it matures.
1 DISTILLERY + PREMIUM CANE = SINGLE CANE RUM
Natural
It goes without saying that when making such a high-provenance, premium spirit, we would not want to interfere with it using dubious, artificial means. Not only would it compromise the cane, but it would deceive the drinker. That means our rums will not contain any added caramel colouring, and will not have sugar added as a sweetener.
The rum will be an entirely natural spirit.
Only this way – our way – can it be a true expression of Grenada.