Phytoremediation
THE REVERSE TERROIR EFFECT
ELEMENT: Earth.
At its most literal, phytoremediation uses plants to restore an ecological system to an equilibrium, a technology whereby plants are used to remediate the soil.
It sounds like something straight out of an H.G. Wells novel: plants reparing their world from the signs of human activity. Indeed, at its most literal, phytoremediation is precisely that: it is the use of plants to restore an ecological system to an equilibrium; a remarkable meeting of nature and technology, whereby plants are actively used to remediate their soil.
Plants possess numerous extraordinary abilities, one of which is to concentrate elements from their own environment. By metabolising these molecules, plants have the potential to render potentially damaging  contaminants in soil, water, or air as totally harmless.
A complex array of biological and chemical reactions, which over epochs have been hardwired into the natural world, gives plants this ability to restore the natural balance of the soil in which they grow, to modify and repair the land.
It is a natural self-survival phenomenon, but plants can be consciously used by humans to remediate soil. Instead of the environment influencing how a plant grows, a plant's growth can be used to influence the environment.
In a manner of speaking, it is a reverse-terroir effect.
A DIRTY LITTLE SECRET
Vinasse, the byproduct of sugar cane rum distillation, like molasses dunder or whisky pot ale, has been the distiller's 'dirty little secret' for centuries. Historically, environmental responsibilities were not high on the list of priorities. The expedient was to dispose of it as simply as possible, the 'out of sight, out of mind' school of waste disposal – which meant directly in the sea, down an aquifer, or into a river.
Dumped, in other words. Raw.
Whilst some may still paper over the cracks, we take our ecological responsibilities far more seriously and have engineered processes and systems accordingly. All five of our waste streams are transformed into environmentally beneficial states: bagasse, the crushed sugar cane, becomes biofuel to power the distillery; organic solids, cinders and ash, composted, become fertiliser; process water, recycled, is for irrigation; and the distillate residue, phytoremediated, becomes fish food.
Of course, those are the fundamentals, but being privileged to be within a pristine habitat we wanted to go further – to have a positive influence on the surrounding biome. Here's how it's done.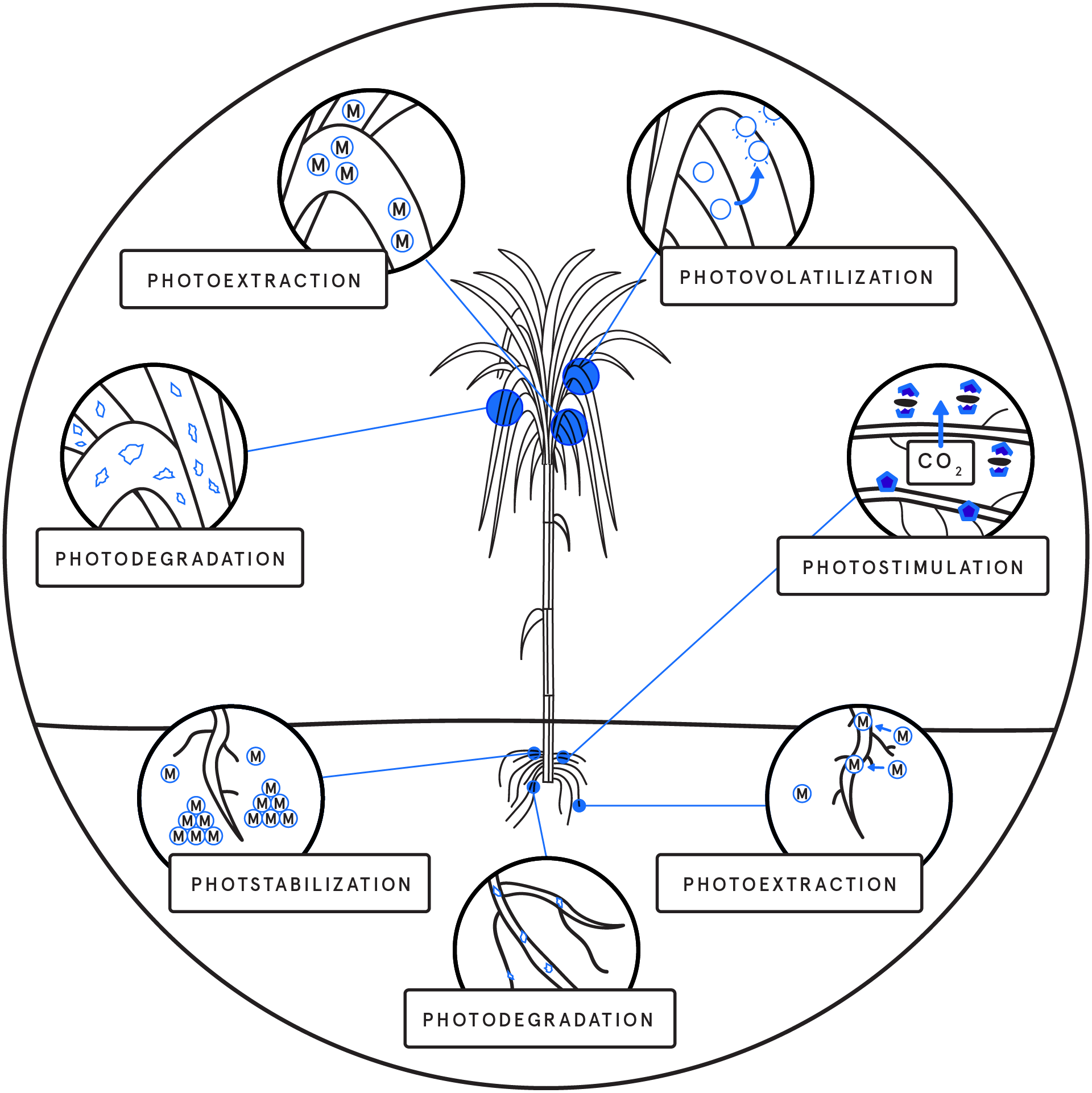 POSITIVE CONTRIBUTIONS
To start with, sugar cane distillation produces a much less concentrated waste than rum from molasses – after all it takes 25 tons of sugar cane to produce just one of molasses. Therefore it has a much lower biological and chemical oxygen demand (BOD and COD) – this means that less oxygen is needed to break down the organic matter of organic charge in the waste. Even so, we deploy a five-tier pre-treatment process in three vast tanks: coagulation, sedimentation, dilution, aeration, and pH amelioration. 
The suspended solids – dead yeast – are coagulated then removed by sedimentation. It is heavily diluted with recycled rain, production and wash-down water, then pH is neutralised and the temperature is lowered. Only then is the waste water gradually released from its buffer tank in to our infiltration trench system.
200 metres of trench, 2.5 metres deep, slices along the contour of a slope planted with a mix of grasses, sugar cane and large trees situated above the nearby mangrove. Membrane-lined, and filled with small volcanic stones, this trench distributes the waste water evenly, allowing it to percolate infinitesimally through the lower soil via hydraulic conductivity.
If soil is the treatment medium, then phytoremediation is the balance restorer. During the 30-day journey towards the mangrove, through soil microbes and nature's complex system of plant roots, residual metals such as copper from the stills are removed, along with the organic charges (COD, BOD).
What does all that mean? Well, it means simply that any waste water has already been cleaned – entirely naturally – by nature itself – before it enters the mangrove.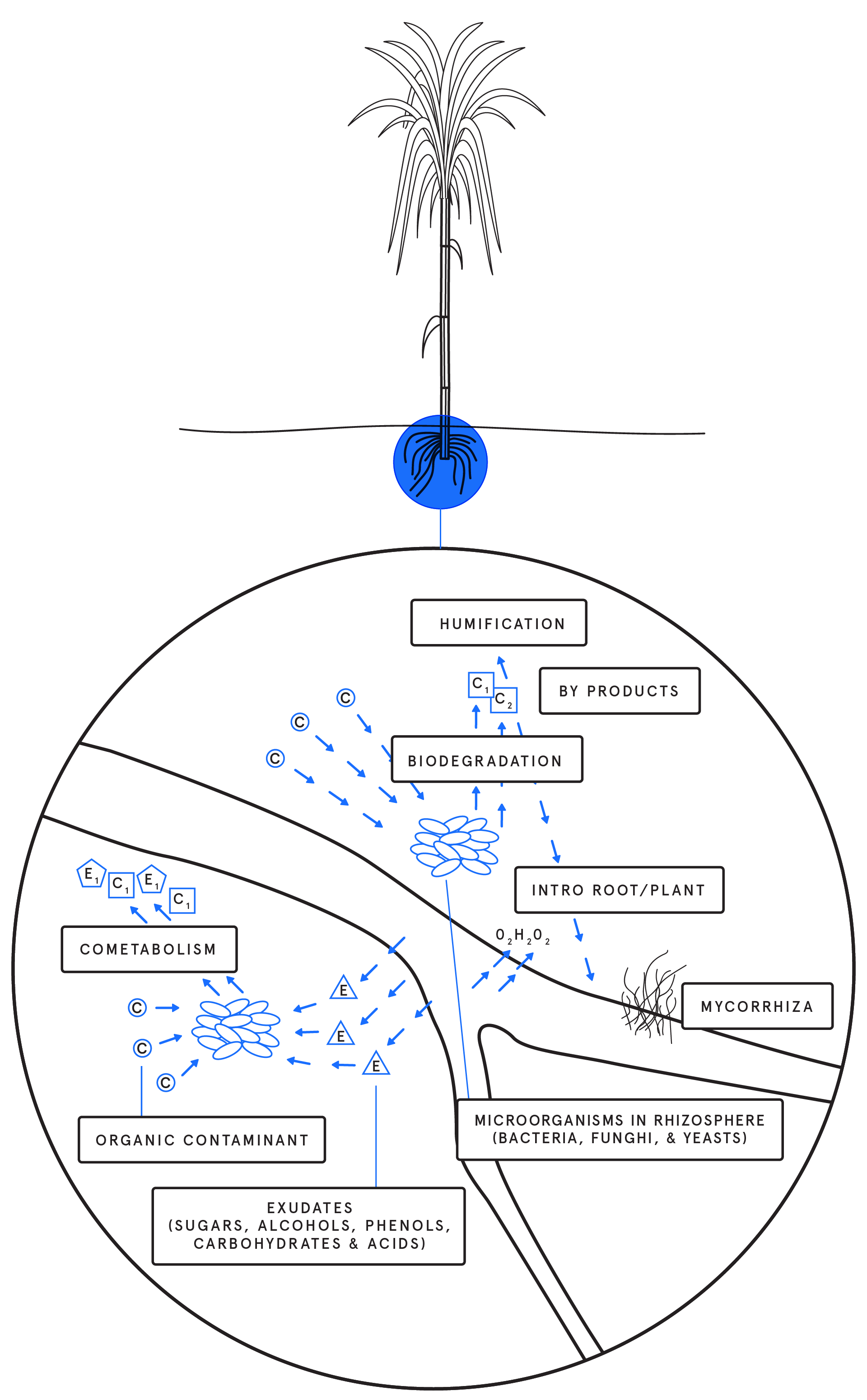 WATERLOG
Mangrove 
are stilt-rooted, salt-tolerant trees, 
with special adaptations of salt glands and breathing roots, which means they thrive in places of low oxygen – such as saline, water-logged soils. 
Our nearby mangrove system itself is a 60-acre water-filled basin, with a depth of twenty feet in the central lake. A branch of the River Loria feeds into it, after its passage through a 15-acre water meadow.
Around Renegade Rum Distillery, the red mangrove species dominates. The black and white mangrove, with their lower water-logging tolerances, are found where flooding is periodic, while the button mangrove is found on the edge of the basin.
The mangrove is protected from the rapacious Atlantic behind a black sand beach. A sand bar blocks the river's exit, trapping fish and amphibians in the brackish water until the next heavy rainfall. The distillery waste water, fully treated then 'polished' by nature after its 30 day passage through the soil, finally becomes a fish food.
To better understand our influence on this biome's nutrient dynamics, and that of other local farmers and livestock grazing, we chose to work closely with the environmental team at St. George's University. The university monitors these ecosystems, ensuring not only that these complex, delicate marine ecosystems are kept in balance, but that Renegade Rum's contribution is always a positive one.
From the ancient Greek phyto: 'plant'; and Latin remedium: 'restoring balance'.